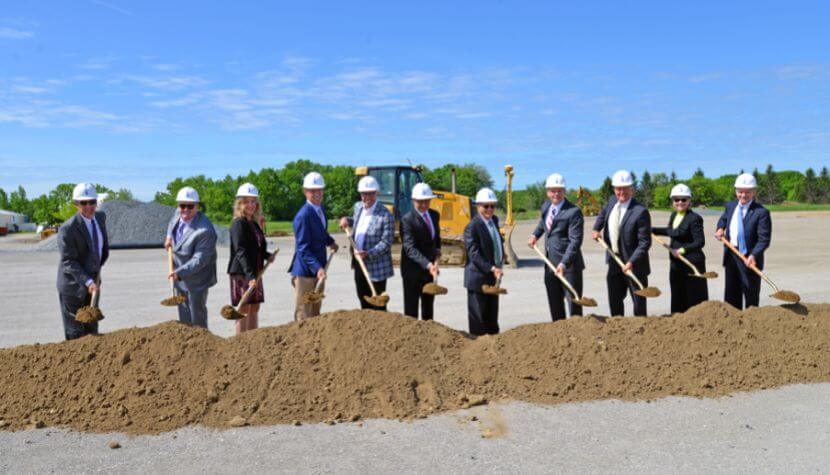 FOR IMMEDIATE RELEASE
Community Care Physicians Contact
Alexis Musto, [email protected], (518) 330-8983
CDPHP Contact
Ali Skinner, [email protected], (518) 605-4497
MEDIA ADVISORY/PHOTO OPPORTUNITY
Groundbreaking for Community Care Physicians Medical Arts Complex
263,000 square foot, state-of-the-art medical complex will be new headquarters
 for Community Care Physicians and CDPHP
Latham, NY – (May 18, 2022) – On Tuesday, May 24th at 10:00 am, representatives from Community Care Physicians PLLC (CCP), CDPHP, the Town of Colonie, and Columbia Development Companies will have a groundbreaking ceremony for a new three-story, 263,000 square foot, state-of-the-art medical arts complex located at 6 Autopark Drive.
The new facility, to be built by BBL Medical Facilities, will be the new headquarters for CCP and CDPHP.
CCP will be the primary tenant in the facility and will move all clinical services currently offered at the Capital Region Health Park two miles away to Autopark Drive, which will be renamed Wellness Way to reflect the services being offered. Wellness Way will provide additional specialty care services including rheumatology, an enlarged AAAASF procedure space, and expanded cancer care program. It will also provide greater access to timely, cost-effective, quality care for patients and growth for CCP.
The facility is also the next step in the integration of services between CCP and CDPHP, which recently announced a partnership to form a management services organization to support all non-clinical functions for the CCP family of practices.
CCP consists of 1800 people, including more than 420 providers, all sharing one common purpose – to create healthy communities, one patient at a time. Once completed, the building will not only be home to CCP, the largest independent multispecialty practice in the region, but will also be the largest outpatient medical facility in the Capital District. The complex at Wellness Way will be visible from the Northway and is being designed with the patient experience in mind, with on-site cafés, more green space, electric car charging stations, heated sidewalks, several access points for patient drop-off, and greater opportunity for specialties to collaborate for patient care, regardless of insurance plan.
Who: Community Care Physicians Founder, Chairman, CEO, Dr. Shirish Parikh
CDPHP President and CEO, Dr. John Bennett
Columbia Development Companies Vice President, Richard Rosen
Albany County Executive, Dan McCoy
Colonie Town Supervisor, Peter Crummey
What: Groundbreaking for new Medical Arts Facility site
When: Tuesday May 24th, 2022
10:00 a.m.
Where: 6 Autopark Drive, Latham, NY 12110
To cover the event, please RSVP to Alexis Musto, CCP, or Ali Skinner, CDPHP. On the day of the event, call (518) 330-8983. Interview opportunities are available with all speakers at the event. Refreshments will be served.
About Community Care Physicians
Community Care Physicians (CCP) is the largest independent multispecialty medical group in the Capital Region, with over 70 practices in Albany, Columbia, Greene, Montgomery, Rensselaer, Saratoga, Schenectady, and Warren counties. For over 35 years, this physician-led organization has provided high quality, patient-focused, accessible, and convenient care for all ages using innovative technologies.  CCP employs more than 1800 employees, including more than 420 providers, across over 30 medical specialties including Internal Medicine, Pediatrics, Family Medicine, OB/GYN, Urgent Care, Aesthetic Medicine, Audiology, Behavioral Health, Clinical Pharmacy, Dermatology, Developmental Pediatrics, Diabetes Education, Endocrinology, General Surgery, Hematology, Interventional Radiology, Laboratory, Medical Nutrition Therapy, Medical Oncology, Nephrology, Neurology (Adult and Pediatric), Occupational Medicine, Physical Therapy, Podiatry, Pulmonary Medicine, Radiation Oncology, Radiology, Rheumatology, Sleep Medicine, Spine Care, Sports Medicine, Urology, and Vascular Surgery. CCP is a multiple recipient of the Albany Times Union's Top Workplace, the Albany Business Review's Great Place to Work, a Best and Brightest Company to Work For®, and a National Top Workplace for two consecutive years. CCP welcomes new patients and participates with most major health insurances. Visit us on Facebook, Intagram Twitter, LinkedIn, and online at www.communitycare.com
###